St. Mary is situated on six acres at the crest of Fort Hill. It was designated as a new parish in 1964 by the Bishop of Norwich. Today we serve over 1,200 families and an influx of summer residents.
Groundbreaking ceremonies took place on December 11, 1966 and the first Mass was celebrated in the Church on March 24, 1968. On May 30, 1968, at the dedication, Bishop Vincent Hines described St. Mary Church as a "Beacon of Faith." He also said, "Its design fits in perfectly with the spirit of the new liturgy, in which all can participate actively in the Eucharistic Sacrifice of the Mass."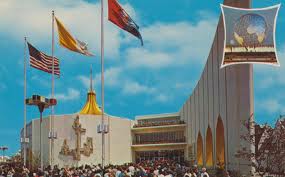 Both interior and exterior equipment from the Vatican Pavilion at the World's Fair in New York were purchased and the architect, William F. Herman, Jr. of Mystic, designed the dramatic new church building around these acquisitions. Forty-two feet above the white arched and fluted roof of the contemporary styled church soars the pavilion cross made of golden-anodized aluminum. It is three dimensional and is easily recognizable as a cross from all sides. Thin metal needles used to catch the play of light lend it luminosity. The cross is an inspiration to those on land, on sea, and in the air because of the magnificent site for St. Mary Church. The stained glass windows, created by Jean Jacques Duval of France for the chapel of the Good Shepherd at the Pavilion, reflect an abstract interpretation of Christ the King of the Universe. The symbolic designs on the windows represent the Stations of the Cross. The reredos, the fan-shaped spray of walnut rising behind the sanctuary and changing form to provide the balachino (canopy) above the altar, and the testor, the ring in which lights are recesseed, light the altar.